SUR/ RENDER


LISA STERTZ: performance, 21.08.2020
KATZ + STERTZ: showcase, 21.08.2020

House for the End of the World at Falckensteinstraße 24 is a place in a transitory state; an empty, un-renovated, and otherwise unused 2-room flat in Berlin Kreuzberg. Formerly a private residential space, its current use as a project space is temporary, and its future thereafter remains to be seen.

This event features Lisa Stertz in her performance titled SUR/ RENDER, and site-specific work by Elana Katz titled HOLDING ONTO NOTHING TO SEE HOW LONG NOTHING LASTS. The respective work of each artist examines of the notion of <home>. Stertz's performance pertains to the body as home, as well as questioning where/ how the body feels (at) home. Katz's installation responds to this "house" of an unknown past and uncertain future, while working with symbols of comfort, and attachment -- in relation to dysfunctionality.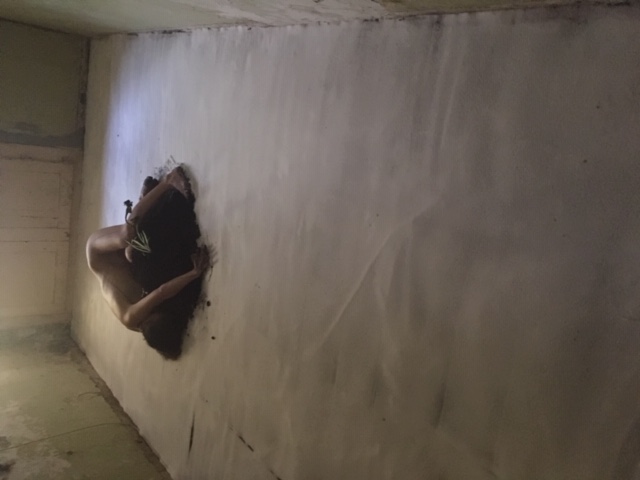 <SUR/ RENDER>
, performance & live installation, Lisa Stertz, 2020
<Holding onto Nothing to See how Long Nothing Lasts>
, Elana Katz, site-specific installation, 2020. Bed of wood, pillow of powder, ventillator gradually blowing the pillow away.
/About the Artists/
Lisa Stertz
is a German artist and educator. She works in performance, sculpture, installation and video. Through her studies in media, philosophy and art she became both, a savant and a maker. Her own interest in movement-based practices led her to be a sojourner of Butoh, Noguchi-Taiso, Baguazhang, Taiji Quan, and meditation. Her approach in teaching and making is nourished by her masters in the respective fields, namely Yuko Kaseki, Mari Osanai, Yunuen Rhi, Lingji Hon, Ganga Cording, Roberto Sifuentes, Ernesto Pujol and Nikhil Chopra. She studied European Media Studies in Potsdam (MA, 2015), and under a New Artist Society Scholarship and a Fulbright Grant Fine Art Studio: Performance at the School of the Art Institute of Chicago (MFA, 2016).
http://lisastertz.com
Elana Katz
is a conceptual artist working primarily in the medium of performance art. Katz's work confronts cultural conventions, critically examines the complexity that lies within contradictions, and thus aims to provoke experiences of "unlearning" the assumed. Katz has exhibited/ performed at the Royal Museum of Fine Arts of Belgium (2011), Diehl CUBE, Berlin (2013), P.P.O.W. Gallery, New York (2013), DNA Berlin (2015), ROCKELMANN&, Berlin (2016 -19), IEEB 7th of Bucharest (2017), Gallery KWADRAT, Berlin (2017-20), DFBRL8R Performance Art Gallery, Chicago (2019), and the Museum of Sundsvall, Sweden (2019-20), where her work has been recently acquired into the museum's permanent collection. In 2020, in cooperation with Gallery KWADRAT, she founded the Berlin contemporary art space House for the End of the World, where she curates a program focused on site-specificity. Katz has been based in Berlin since 2008.
www.elanakatz.eu